A complete online production course for film and video
Used by hundreds of
schools around the world.
EDITING
...full of humor, insight and clarity. I wish every textbook was this good."
"...much better than a book. It's a superior way to learn this material."
"...I can't believe how many clips, graphics and animations are in here."
SHOOTING
LIGHTING
CAMERA
SOUND
Chapter is all new!
Another major upgrade!
SOUND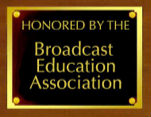 TEACHERS: Send us an email and we'll send you our teacher's materials. Free, of course: REQUEST MATERIALS.
Copyright © 2014 Prof. Michael Trinklein - mike@btmedia.us