A complete online production course for film and video
Used by hundreds of
schools around the world.
...full of humor, insight and clarity. I wish every textbook was this good."
"...much better than a book. It's a superior way to learn this material."
"...I can't believe how many clips, graphics and animations are in here."

All our chapters have now been updated! It's a major overhaul. If you are a teacher, read about the changes here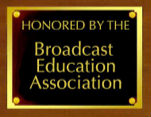 TECH
All site content written by Michael Trinklein
Copyright © 2014 Prof. Michael Trinklein
mike@btmedia.us
TEACHERS: Send us an email and we'll send you our teacher's materials. Free, of course: REQUEST MATERIALS.